---
Michelle Volz, Contemporary Fine Art
Hello! Thanks for visiting my page! I hope you enjoy your visit and find some lovely art to bring to your home. Please peruse the original art, prints and merch in the menu. I'm currently accepting commissions if you're interested in a piece unique to you. Please contact me directly.
Let me introduce myself. I'm a contemporary landscape artist and texture junkie based in Lehi, Utah. I LOVE painting thick, textured scenes including aspens, mountains, oceans and more using rich commanding colors. My tools of choice are my palette knives but I use a wide range of tools. I tend to sculpt more than paint my landscapes, making aspens and oceans look like they're coming out of the canvas. The greatest compliment to me is when a client reaches out to touch and connect with a piece. I mostly work in acrylics, however I've recently been having fun including mixed media mediums into my work.
One of my favorite projects of late has been the Handprint Project, a community art project that has reflected current social issues. These projects have been a labor of love, inclusivity and and humanity, a way to show that we are all one people lending a hand, no matter where on the rainbow we land.
Thanks again for visiting! I hope you enjoy my work!
---
Featured Originals
Blog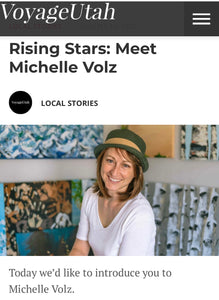 Hey ya'll!  Pretty exciting news! I was recently featured in Voyage Utah Magazine! I'm so grateful they reached out and gave me the opportunity to introduce myself and my story...
                  "The Morning Breaks"                                    "The View...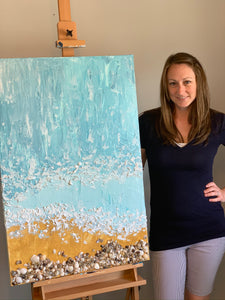 Commissions See something you like but need a different size? Maybe you like something but want different colors or to make it more personalized. I'm happy to create a piece...